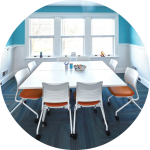 With the summer in full swing, parents and families may find themselves looking for programs that will help treat and prepare their children before they had back to school in the fall. At Clementine, we offer programs that incorporate highly personalized medical, psychiatric and nutritional care with an extensive academic program in an effort to help them make that transition as comfortable as possible.
Summer programming for adolescents take place at our locations in Briarcliff Manor, NY; South Miami, FL and Portland, OR. At all of these locations, school times are still honored the same as they are during the school year but the times are cut in half and end late August. The culture at these locations still focus on personalized, supportive programming and collaboration between faculty, families and patients. However, during the summer we help to attain a new goal of sustainable, preparedness through an additional education plan.
Teachers lead classrooms Monday through Thursday and on Friday recovery coaches take over. Teachers select various topics on current events to incorporate into programming in an effort to prepare adolescents for their transition back into a typical school atmosphere. Each day is dedicated to a different programming aspect. Tuesdays are dedicated to how to write a college essay, how to create an effective budget, how to write a proper letter and how to apply for a job. Wednesdays incorporate a rotation of Ted-Talks and academic games intended to increase socialization skills and conflict resolution. Thursdays are dedicated to movies and discussion and Fridays are career days where local professionals come in to expose adolescents to the professional opportunities in the real world.
It is essential students maintain a balance between their academics and treatment so we make sure to incorporate a sufficient amount of each in their day. If for some reason a student is falling behind there are ways to accommodate based on their specific needs. If a student has a lot of school work, some of the activities listed above can be suspended for a private tutor to come in.
Our summer program at Clementine offers a specific treatment plan for your child on their path to healing with an additional academic component in our curriculum. It is our hope that through this program your child will leave treatment feeling better than before and with a foundation for their future school year.
For more information about Clementine adolescent treatment programs, please call 855.900.2221, visit our website, subscribe to our blog, and connect with us on Facebook, Twitter, and Instagram.
To learn more about summer programming at Clementine, please visit our website or reach out to an Admissions Specialist at 855.900.2221.