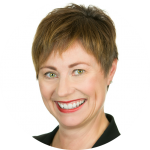 Becky Henry is trained as a Certified, Professional Co-Active Coach (CPCC) and uses those skills to guide families to let go of fear and panic, learn self-care skills and become effective guides for their loved one in eating disorder recovery. In this week's blog post, Becky shares valuable tips of what to say to your child who is away in eating disorder treatment. 
Your child has been away at a treatment center for about a week – maybe just 3-4 days and you get THE CALL! Your child, weeping or crying hysterically on the other end. "MOM! Help get me out of this place! They're so mean to me!"
First, I am so sorry that this illness takes away our real kids from us. And I'm so sorry that no one gave you help in how to respond.
What do you say?  Hopefully the treatment center gave you a heads up that this is very COMMON.
Your job, once you've prepared yourself to be calm, rational and objective is to hang in there. Knowing this is VERY normal as the team is challenging the eating disorder (ED) a lot right now makes it very scary for your child. ED's voice is VERY loud right now.
Keep loving him/her where he/she is at. Trust the model. Remind him/her that he/she is safe and that this is part of the process.  Remind him/her to lean on the staff when he/she needs support, that is what they are there for. Tell him/her she is brave. Acknowledge how scary and hard this is for him/her. Tell him/her you will always love him/her and be there for him/her. And that he/she can do this – one step at a time.
It might be useful to have something like this by your phone (or in your phone):
"Honey, I'm so sorry, it sounds so very hard and scary. I'm so proud of you for working so hard. I know. I love you. It will get easier. uh huh. yeah. WOW. Bummer. That sounds really scary. I know you can do this. Please remember to take one moment at a time. I love you." 
And then repeat it each time he/she calls.
Know that ED is fighting for his very existence and is not going to give up easily.  When ED feels threatened he ups the ante.  This is what your child is up against. He/she needs you to be strong and not back down.
Then it won't shred you to bits. As much. Loving a child is painful sometimes. Keep loving your child where they are at. Even when you want your child healthy and back home with you. For now you can do this.
We are exited to share the opening of Clementine Malibu Lake. Learn more about the program by visiting our website or calling an Admissions Specialist at 855.900.2221.
For more information about Clementine adolescent treatment programs, please call 855.900.2221, visit our website, subscribe to our blog, and connect with us on Facebook, Twitter, and Instagram.