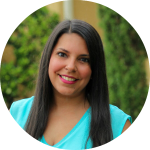 Clementine Family Therapist Jeanette Alonso has been an integral part of the Clementine treatment team since the doors opened in 2014. Jeanette provides families and adolescents the support and care needed to heal through her family therapy sessions. Learn more about Jeanette and her work at Clementine by reading this week's "Meet Our Team"…
What is your name and what are your credentials?  
My name is Jeanette Alonso. I am a Licensed Mental Health Counselor.  I am a Family Therapist at Clementine Pinecrest and have been since it opened its doors in October 2014.
Please give us a brief description of your background.
I attended the University of Miami where I received a Bachelor of Arts in Psychology with a minor in Human and Social Development and then went on to complete my Master's in Mental Health Counseling at UMiami as well.
Prior to OPC & Clementine, I worked exclusively with Post-Traumatic Stress Disorder and sexual trauma conducting individual, family, and group therapy where I developed an expertise in Trauma-Focused Cognitive Behavioral Therapy as well as other evidenced based practices aimed at children, adolescents, and adults.  I also received certifications in Play Therapy and Infant Mental Health. In 2010, I began working at the Oliver-Pyatt Centers and worked within all programs: residential, intensive-outpatient and transitional living where I developed a specialty in the diagnosis and treatment of eating disorders. I then moved into a family therapist role when Clementine opened in 2014 where I get to work closely with families and adolescents in critical need of support at a higher level of care.
What does a typical day look like for you at Clementine?
Typically my day begins by meeting with team members to discuss the most updated clinical information on each of my cases. I then hold family sessions indoors or outdoors (weather permitting). Sessions are either done in person or via computer with parents.
In your own words, please describe the philosophy of Clementine.  
Each client and their treatment is highly individualized and specifically addresses the needs of the client. No one client is treated the same and treatment follow up and goals are all developed from a multidisciplinary approach that captures every overall aspect necessary to treat the ED. The family oriented, loving, and warm environment is the backbone of all the work and dedication that goes into treating the ED.
How does your team work together? How do your roles overlap and differ?
"Teamwork is the dreamwork". The close team approach is essential and at Clementine the team is always in close contact via email, phone, personal meetings, and shared office space that constantly lends itself to continuous process and discussion on how to best manage each client and family's individual needs. As a family therapist, my role at times may overlap in similarity to the primary therapist role.  My specific role, however, involves more one on one contact and support to the parents as well as sessions that involve both client and parents that aims at solely focusing on the family system and the role of the ED.
What is your favorite thing about Clementine?  
My favorite aspect of Clementine has been the people I have worked with, the passion and dedication to saving lives, and the outcome stories of so many brave and beautiful women and girls that have gone on to live lives free of EDs.
What are three facts about you that people do not know?
I am terrified of lizards, I used to sing in the church choir and can actually sing, and my driver's license says my height is 4'11" but I'm actually and inch shorter!
For more information about Clementine adolescent treatment programs, please call 855.900.2221, visit our website, subscribe to our blog, and connect with us on Facebook, Twitter, and Instagram.
To visit or tour a Clementine location with one of our clinical leaders, please reach out to a Clementine Admissions Specialist at 855.900.2221.