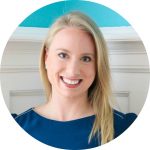 Clementine Briarcliff Manor Registered Dietitian Megan Fahey, MS, RD, CDN shares her personal journey to joining the Briarcliff Manor team in this week's "Our Clementine Family". Megan gives an inside look at her daily work in supporting adolescents on their path to full recovery. Read on to learn more about Megan and the Briarcliff Manor team.
What is your name and what are your credentials?
My name is Megan Fahey, MS, RD, CDN. I am a Registered Dietitian with a Master of Science in Nutrition and Dietetics from Bastyr University.
Please give us a brief description of your background.
I have always been intrigued by the mind-body connection, and am passionate about applying my knowledge of nutrition to promote physical, mental, and emotional healing. Through previous work in acute care and private practice settings, I have gained experience developing and implementing detailed nutrition care plans for adolescents and their families.
What does a typical day look like for you at Clementine?
My days consist of organizing menus in the kitchen, reviewing medical information in the office, and holding individual and group nutrition therapy sessions with our clients. I run weekly lunch outings to local restaurants, as well as weekly cooking groups to provide a variety of food exposures. As the adolescents progress through treatment, I also teach them the skills necessary to portion food in accordance with their meal plans. I keep in constant communication with the adolescents' outpatient teams and families in order to collaborate on nutrition-related care and create a smooth discharge home. My daily goal is to help each adolescent feel energized and empowered by learning how to nourish her body in a mindful way.
In your own words, please describe the philosophy of Clementine.
At Clementine the goal is to provide adolescents with the tools required to let go of an eating disorder and re-engage in a healthy, well-nourished life. We reject the diet mentality, embracing that all food is fuel and that healthy bodies come in all shapes and sizes. Through an improvement in nutritional status and exploration of deep emotional work, we truly believe everyone can experience the freedom of full recovery from an eating disorder.
How does your team work together? How do your roles overlap and differ?
The clinical team at Clementine shares office space, which fosters an environment of collaboration and professional support. We hold weekly team meetings to discuss every component of the client's care. Although each practitioner offers a unique skill set, we are constantly learning from one another in order to enhance our treatment approach as a team. I work closely with the chef, clinicians, and recovery coaches to create a supportive eating environment to help ease the anxiety that arises around meal times. I value our model of open and honest communication and admire the strength and empathy shown by each and every team member.
What is your favorite thing about Clementine?
I am humbled to work in a role that allows me to witness the powerful, healing journey of eating disorder recovery. The adolescents who enter our home are some of the most insightful, kind, and intelligent individuals whom I have ever met. In working specifically with adolescents, I am reminded to view the world through a lens of curiosity and possibility.  As an added bonus, the adolescents keep me up-to-date on the latest social and pop culture trends!
What are three facts about you that people do not know?
My paternal family lives on a farm in Ireland. I spend time every year on their beautiful land and have always believed that those "roots" influenced my desire to pursue a degree in nutrition.
I love to read and write and have kept journals regularly since the age of 8. The tattered, worn stack of journals sits at my nightstand and I almost never travel without something to write in.
My absolute favorite movie is "The Little Mermaid" and as a child I dreamt of being able to live and breathe underwater.
For more information about Clementine adolescent treatment programs, please call 855.900.2221, visit our website, subscribe to our blog, and connect with us on Facebook, Twitter, and Instagram.
To learn more about our newest location, Clementine Briarcliff Manor, please reach out to a Clementine Admissions Specialist at 855.900.2221.