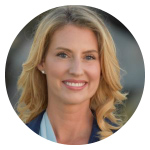 Clementine Psychiatrist Lauren Ozbolt, MD, CEDS, FAPA is board certified in adolescent, adult and child psychiatry and oversees the psychiatric care and attending psychiatrists at Clementine. Dr. Ozbolt explains how she establishes a strong rapport with the adolescent and family in order to recommend the use of psychopharmacology.
After years of treating patients with eating disorders, I know the word "psychiatric medications" often sends chills down one's spine.  Furthermore, the idea of using psychiatric medications in adolescents is frequently the stuff of parental nightmares. It is true that some adolescents have been scarred by memories of taking psychotropic medications without explanation or have felt "bullied" into taking medications.  I find that many teens are terrified of psychotropic medications and have false preconceived notions about how medications work.  As one young girl timidly told me, "I will be a zombie." (Cue Walking Dead episode)
Thus upon meeting a new adolescent at Clementine, I typically don't introduce the idea of taking psychotropic medications for the first few weeks of treatment (provided they are psychiatrically stable).  I find it is much more valuable at this stage of the game to establish rapport.  I really want to take the time to get to know the patient, focus on the nutritional aspects of treatment and try to gain a better understanding of the function of the patient's eating disorder.
After seeing the adolescent daily for several sessions and establishing rapport, I then may make medication suggestions.  Psychotropic medications can be very helpful in the treatment of certain eating disorders targeting such symptoms as anxiety, depression, obsessive thoughts and food preoccupations.  I spend a great deal of time providing education about the medication, how it works in the body, risks, benefits and side effects.  I will often tell the adolescent what they will find if the "google" the medication and why or why not this may apply to them.  I never push a medications though, and often suggest that they take a few days to think about the medication and discuss it with their parents.  I similarly, give the parents the same extensive psychoeducation and rationale for my recommendation.  If the adolescent decides not to take psychiatric medications, again, I never push or try to convince her to take medication. I don't believe in trying to convince people to take medication they don't want to take—especially an adolescent who is in the separation-individuation stage of development where opposition is the rule.  Instead, I support the adolescent in their decision all the while, leaving the option for medication open.  I find this open approach coupled with a relationship that fosters trust and mutual respect sets a firm foundation for change.
For more information about Clementine adolescent treatment programs, please call 855.587.0780, visit our website, subscribe to our blog, and connect with us on Facebook, Twitter, and Instagram.