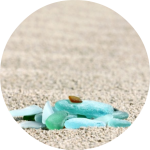 One of the ways Monte Nido & Affiliates wants to help provide opportunities for individuals to realize their healthy selves is through our Sea Glass Grants opportunity. A Sea Glass Grant aims to support small projects that create, develop or communicate a project that supports eating disorder recovery and healthy self-image. Read on to learn about the first Sea Glass Grant Recipient, The Garment Project. 
Monte Nido & Affiliates is delighted to announce that The Garment Project  – founded by Monte Nido alumni Erin Drischler – has been awarded the first Sea Glass Grant of $500 to support their mission to provide size free clothing to women in treatment and/or early recovery from their eating disorder.
We are happy to share more about The Garment Project through our conversation with Erin:
Tell me about the process of creating Garment.
Garment was created from about two years of conversations between [my partner] Jordan and myself. I have worked in retail for the past decade and have always been interested in fashion. Jordan is a documentarian at an advertising agency. Our careers have given us knowledge and experience that helped us to create something innovative and truly necessary. Once we had our concept worked out, we started to talk to friends in the non-profit space about taking next steps and making this idea a reality. Jordan and I have been learning as we go, but we make a great team.
How has Garment helped you in your recovery journey?
Garment is a constant reminder of the progress I've made in my own recovery. The initial idea came to 5 years before we could make it a reality. I worked through my issues of always wanting to be the caretaker for other people like my mom or my friends but never taking care of myself. As I began to devote more time to my self-care, I was able to become more confident in myself and my abilities. Now I am able to truly help people in a bigger, healthier way.
Who is Garment?
Garment is me, someone who is living a recovered life, and Jordan, who has spent the past few years learning how to be a great support person for recovery. Both of us have a passion for helping others and are devoted to solving a problem that hasn't been addressed for others in the past.
What feeling do you most associate with Garment?
Pride. I'm proud of the organization. I'm proud of the work I accomplished in my recovery to get here. I'm proud of the relationship Jordan and I share and the bond we've created by working together on something that we love. The small setbacks we've faced leading up to our launch would have sent me on a downward spiral just a few years ago. It is empowering to take pride in something that once gave me so much shame.
Walk me through the Garment Experience.
Garment has relationships with treatment centers across the US. When a woman is reaching a point in her recovery process where our service would be most helpful, her treatment team will start to communicate some helpful info to Garment. With that style, personality, and measurement detail, Garment creates a unique shopping site for each individual. From there, our new friend can pick out items that she likes, we'll box them up and ship them right to her.
How and where do you get your clothing and accessories?
Garment has been building relationships with retailers across the US to ensure that we have an inventory with enough variety to fit anyone's style. There are so many retailers that are acting philanthropically with their items after a certain season has passed, when items have gone on sale, etc. Garment has been fortunate enough to be in contact with incredibly generous people at both national retailers as well as smaller boutique shops. We take boxes of new, never worn clothing in all shapes, colors, styles, and most importantly, sizes. Eating disorders do not target certain body types. We want the women we serve to see more options from Garment than they'd otherwise be able to find in most stores.
What is your favorite part of the day-to-day start-up process?
My favorite part of the day-to-day startup process is working side-by-side with Jordan. It is incredible to see what we are capable of doing when we work together. He constantly impresses and surprises me with his talent and attention to detail.
How can people get involved?
The Garment Project has already seen such an encouraging response and we know that it's all because of people talking. The best thing anyone can do for The Garment Project is to talk about it. Talk about eating disorders. Talk about mental health, about resources for help, and about supporting anyone around you who is struggling. We encourage everyone to continue our conversation on social media and via email. Donations to The Garment Project can be processed on our website.
What advice would you give to someone in their recovery who has a dream?
Recovery was uncomfortable work that took dedication, acceptance, and time. It was not easy, and yet it is so worth it. Recovery is possible for everyone. A few years ago, I could not say that sentence out loud, let alone believe it true for myself. I am now living a life free of the eating disordered thoughts and rules that once consumed me. Although each person has a different story and struggle, it is truly possible to live a fully recovered life, free from your eating disorder.
What are your hopes and dreams for Garment?
Our hope is that Garment can reach women and eventually men too on a global scale and spread confidence through fashion. We want to become a resource for the millions of women and men who are working hard to recover.
For more information about Clementine adolescent treatment programs, please call 855.900.2221, visit our website, subscribe to our blog, and connect with us on Facebook, Twitter, and Instagram.