Adolescent Programming at Monte Nido Day Treatment Centers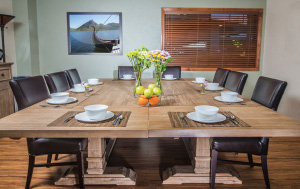 Using similar approaches provided at all of our family of treatment centers, but geared toward adolescent clinical and developmental issues,
Monte Nido day treatment programs
are designed to maintain the same positive and healthy environment your daughter is used to at Clementine.
Program offerings at the partial/day hospitalization (PHP) level include:
Psychotherapy groups and therapeutic content that appropriately reflect the specific developmental and social needs of adolescents
Two individual therapy sessions weekly | Relationship groups | Adapted skills groups
Nutrition and food
Weekly session with nutritionist | Coached family meals | Nutrition exposures coordinated with outpatient team | Supported meals
Family programming as appropriate and available
Weekly individual family session | Multi-family groups | Parent education series | Extensive psycho-education to help gain understanding and tools to support recovery | Weekly phone calls to provide updates on adolescent's progress
Academic support
Programming occurs during the afternoon to allow adolescents to attend school in the mornings | Clinical teams work closely with each teen on their school schedules and demands | Individualized Education Programs (IEPs) are developed and followed in collaboration with your daughter's school so parents have confidence that academic needs are being met while their child is working toward recovery from the eating disorder
Psychiatric management
We're Here to Help.
Get started on your journey to recovery.
Submissions are confidential. We will call you soon.
All submissions are confidential. An admissions specialist will call you soon.
Stepping Down from Residential Treatment
At a certain point in your daughter's treatment at Clementine, you will work with her clinical team to determine the next steps after residential treatment. If a Monte Nido day treatment program is recommended and there is one in your nearby community, we have taken care to provide a seamless clinical and logistical continuum that helps build on your daughter's progress in addressing her eating disorder. Her Clementine primary therapist, along with others on the clinical team, will discuss aftercare arrangements with you, your daughter and the Monte Nido day program staff, ensuring a smooth experience. This coordination includes:
Telephone bridge sessions between your daughter and a clinician from the Monte Nido day treatment program prior to transitioning to the lower level of care. This partnership also facilitates ease in connecting back to Clementine clinical team, if needed
Overview of the day treatment program structure and schedule and information on the programs clinical leadership.
Communication with the Monte Nido day treatment team
Nutrition team on the meal plans established at Clementine | Clinical coordination on the acquired skills your daughter has been learning | Family therapist coordination
Programmatic oversight by clinical and medical leadership over both Clementine and Monte Nido programs, offering additional expertise in program continuity
Seamless coordination with the Admissions Department
Insurance verification specialists to re-verify benefits with your insurance company | Date of discharge coordination from Clementine and admission to Monte Nido day treatment
Additional family orientation session at the Monte Nido day treatment program
WE'RE HERE TO HELP
Find out more about our unique approach to eating disorder treatment and recovery.