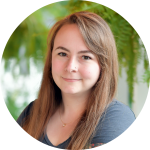 Clementine Twin Lakes Registered Nurse Danielle Airaghi, RN, BSN, CARN shares her personal experience working at Clementine Twin Lakes. Read on to learn more about Danielle…
Share about your background and what led you to Clementine. I have worked in psychiatric nursing, specifically addiction, for about 7 years. When I saw this facility was opening so close to my home, I jumped at the chance to learn about an issue I really had no experience with. I see eating disorders so frequently with addiction, but we rarely know how to address each issue.
What does your typical day look like at Clementine? Honestly, fun. It doesn't feel like a job I should be paid for but I'm lucky I am! The adolescents are enjoyable and I love watching them grow and heal.
In your own words, please describe the philosophy of Clementine. We want you to love yourself as much as we do. It won't be easy, but, with commitment, it's possible. Recovery is attainable.
How does your team work together and how do roles overlap? I have been so well supported in the few months I've been here. I truly love the Recovery Coaches, I'd be so lost without them. Our nutritionist is a wealth of information who enjoys taking the time to teach you. From therapists to our chef, I have been humbled by the wealth of knowledge and welcomed with open arms.
Share a special moment/experience you've had at Clementine. Just one? Every shift is special. Having the girls look truly happy when I walk through the door makes me melt. The same goes for staff! They're always happy to see me and have smiles on their faces. That makes me feel so good.
What is unique about Clementine? It's home away from home. I don't have a sterile, stoic feeling when I walk through the door. Even though there is so often laughter, there are tears, too. But, every emotion is needed and allowed. Clementine works with all personalities in girls, parents and even staff.
Share three facts about yourself! I'm a beekeeper, I can walk on stilts and I can drive a (small) tractor!
For more information about Clementine adolescent treatment programs, please call 855.587.0780, visit our website, subscribe to our blog, and connect with us on Facebook, Twitter, and Instagram.