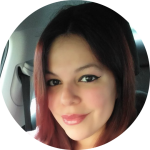 Clementine South Miami Recovery Coach Ingrid Senalle, LPN shares her personal journey to joining the Clementine Family, as well as an inside look into the treatment center. Learn more about Ingrid and Clementine adolescent treatment program by reading this weeks "Our Clementine Family"…
What is your name and what are your credentials?
My name is Ingrid Senalle, I am a Licensed Practical Nurse/Recovery Coach. My role as "RC" at Clementine South Miami (SoMi), began on March 2016.
Please give us a brief description of your background.
Miami has been my home since birth, I attended nursing school at MedVance Medical Institute and attained my diploma in Practical Nursing in August of 2012, I have been licensed with the state of Florida since 2013. My nursing career has always been focused on work with adolescent clients, prior to Clementine, I was a school nurse working with special needs high school students. My passion for working with eating disorder patients began when my older brother developed a severe case of Anorexia Nervosa, our entire family was devastated, at the time I was only 14 years old and watched him go through hospitalization after hospitalization. The eating disorder in him got worse before it got better, he was in a wheelchair with barely any strength at all, at my young age I researched as much as I could on eating disorders to help get him out of his poor state. Luckily, with an amazing family and medical team he was able to recover over the course of a year and a half. It was then that I developed a passion for a future career in knowing further about eating disorders and helping children and adolescents with severe eating disorders and/or special needs.
What does a typical day look like for you at Clementine?
A typical day for me consists of making sure our clients are safe, as safety if the number one priority,  and making sure all of our girls are in tune with what goals need to be achieved to meet their needs. Our clients rely on us for everything, whether it be emotional support to what is portioned for them to eat, my job is a vital role in the process of recovery.
In your own words, please describe the philosophy of Clementine.
Clementine is a program that prioritizes the needs of our clients, helping clients get in tune with their hunger/fullness cues and to normalize the act of eating without judgement.
How does your team work together? How do your roles overlap and differ?
Teamwork is such a vital part of the Clementine program, our team works together in every aspect, communication is a big part of our work together. Communicating information on a day to day basis on each client, helps us stay on the same page with each individual client and their specific needs. Clementine is one big family, we all have different tasks to complete daily, but never hesitate to help even with things out of our normal routine. We all watch out for one another and have found that it helps maintain our warm, friendly and reliable atmosphere.
What is your favorite thing about Clementine?
My favorite thing about Clementine, would have to be the ability to help our clients in so many different way, we are given so much to work with, it is very satisfactory to see the positive progress that our clients make from start to finish. Clementine is a great place to work, the staff is also one of my favorite things, everyone is great to work with. The opportunity for growth within the company, this is a job that I get excited for in the morning!
What are three facts about you that people do not know?
1.      I'm terrified of dark water and what may lie beneath!
2.      I never learned to ride a bicycle.
3.      I have never seen snow in person.
For more information about Clementine adolescent treatment programs, please call 855.900.2221, visit our website, subscribe to our blog, and connect with us on Facebook, Twitter, and Instagram.
To visit or tour a Clementine location with one of our clinical leaders, please reach out to a Clementine Admissions Specialist at 855.900.2221.