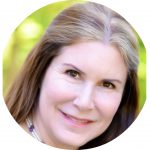 Nancy Mensch Turett is the founder of WholeView, a consultancy to empower leaders to generate health across their personal, professional, and public life-spheres through holistic thinking and action. She will be contributing a series of blogs sharing her personal story of supporting her daughter on her journey to being fully recovered.  In part one of her series, she tells of the "Moment of Discovery".
When colleagues invited me to offer my perspectives about eating disorders (ED) publicly, my immediate reaction was sure, this makes sense. I'm a professional communicator. I help other leaders find their holistic voice and share their insights broadly to generate health and well-being. I should follow my own advice. And it's certainly true that ED demands a WholeView — it develops from a perfect storm of factors, manifests in several forms, and can be cured only through a holistic approach to treatment.
Before I jump in, given that there were many dark and difficult times, you should know that there's a happy ending: my daughter is well. Thriving. As is the whole family. More on all that in future postings. Also, importantly, with her crisis behind us, my daughter is in favor of my sharing experiences and insights that might be helpful to other families. Her only caveat: that I use just my nickname for her, "Rosie."
OK, so I resolved to share my story. But how to tell it? Where to begin? Like every family's, our ED odyssey is long and winding. In some ways, it started at the start of Rosie's life. It definitely continued through most of high school.
There's so much to share. So my story will be told in chapters, with a different installment each month until I've filled in the chapters from beginning and end. Today, however, I start in the middle, at the Moment of Discovery, for the many other moms and dads out there who are sitting there right now, disbelieving, shell-shocked, and terrified. That fateful time when you suddenly realize that your lovely, loving, and "healthy" child is in fact terribly ill.
Discovery for me happened on a sparkling, below-freezing day in January 2010. I'd been looking forward to a "girl's day out" – a special time when Rosie and I say bye to all the "boys" (3 brothers, one dad) to follow our own agenda, i.e., Shop. Lunch. Shop. Chick Flick or maybe Mani Pedi. Deliciously mother/daughter.
It couldn't have been more than 11 AM when the day started to sour. In the car with Rosie, I was enjoying the bright snow and munching on a protein bar. When I offered Rosie a bite she turned to me from the passenger seat of the car and screamed NO. And a minute later she told me to stop chewing – that it sounded disgusting. Telling myself Rosie was just behaving the way 12 year olds are supposed to behave, I tried not to be alarmed.
But the first stop of the day was a wreck. We had planned to design stationery together. Parking the car and brightly cautioning Rosie to watch out for the ice, I got no lighthearted "ok mom" or even a "you don't have to tell me that any more." Rosie turned away and walked to the door of the shop. Once inside, Rosie refused to speak with the salesperson offering options for custom cards and simply glared at me. Feigning cheer, I excused us and promised to come back another time soon.
Having jettisoned the first part of the day's plan, I suggested we move on to lunch. Silence. OK, let's listen to music rather than chat en route to the deli.
Our easy tradition was to order a couple of items together to split. This time, no such thing. Not only didn't Rosie want to share, she couldn't even decide what she wanted. Conscious of the line of customers waiting behind us, after just a bit more cajoling, I put in an order. Something easy, like a turkey sandwich and a bag of those salt and vinegar chips Rosie favors. At the table, she couldn't manage to take a bite. Actually, she couldn't manage to stay seated. Pacing around the little restaurant, Rosie was clearly uncomfortable with the simple concept of eating lunch. I felt sick but smiled and ate and didn't make a big deal of it when Rosie consumed nothing but a few chips and a can of Diet Coke. But still tried to file it away in my brain as just one of those tween things… no big deal.
Next up was to be the highlight of the day: Shopping for a special-occasion dress for Rosie. Given how much she loves dressing up, I anticipated our both having a great time while Rosie tried on a variety of frothy numbers. This was our first time clothes shopping together since before Thanksgiving, and Rosie, at 12 and a half, was clearly getting taller and I figured, developing a woman's shape. Having mentioned her desire to lose her "baby fat" over the summer, and just having gotten her first bra, I hadn't thought it odd that I hadn't seen her undressed for a few months. Rosie was just private about her body as I was too on the cusp of adolescence. Totally normal.
With a few items she and the salesperson selected, Rosie went into the dressing room to try on the first dress. What transpired next was surreal: A young girl came out in a form-fitting dress. With Rosie's face but a stranger's body. Thin. Very thin.
As I'm telling myself this is not good, others in the store, staff and customers alike, ooh'ed and ahh'ed at Rosie's appearance, saying things like "you look amazing" and "you should be a model." No she didn't and no she shouldn't.
I slipped outside to call my husband. I did my best not to break down right there on the sidewalk when telling him that something was very, very wrong. Our Rosie – our healthy, smiling, never-complaining, lovely child was not well. How could she — seemingly overnight – morph into a too-thin, very-tense, and apparently humorless pre-teen? What did we do wrong? What should we do now?
And then I got a grip. I told myself that my daughter is sick. That I don't know how or why it happened but it was important that her mom and dad keep as calm and steady as possible. I cannot say we always achieved this goal, but keeping in mind that our behavior would affect her sense of things helped a lot.
Driving home in the car together, it was already dark at 5:00 so there was nothing to look at but the lights on the highway ahead of us. I didn't know what to say. Rosie filled the space easily. While she didn't mention the new dress, or the shoes, or the special event it was all for, she spoke with elation about now "being" a "2" or maybe even a "0" (a size I hadn't known existed). Any spark of hope I had that she wasn't sick was extinguished.
I was frightened about what would lay ahead for Rosie. But resolved that we would get her well, ASAP.
That evening, we called an eating disorders specialist and the next day, my husband and I were sitting in her office. The doctor asked many questions, and as we answered each with a "yes" I began to weep with fear and worry. At that meeting on that Sunday, we learned four important things:
Our daughter was suffering from anorexia nervosa.
With specialized care including parental commitment to participating fully, this potentially fatal disease was curable.
That time was of the essence. We needed to do all possible to keep the disease from taking deeper hold in her brain. No more dismissing her withdrawn mood, weird eating habits, and baggy clothes as nothing more than ordinary tween stuff.
That ASAP is the right thought for accepting the diagnosis and getting going on treatment, but not a realistic mindset for time to full recovery. We had a long haul ahead of us and life for our entire family would never be the same.
The sooner we accepted the enormity of this, the better for Rosie. It felt like the nadir of our lives. How could it not? But in retrospect, I see that it was the beginning of our facing the truth and getting Rosie the help she needed for a real chance at a full life.
For more information about Clementine adolescent treatment programs, please call 855.900.2221, visit our website, subscribe to our blog, and connect with us on Facebook, Twitter, and Instagram.
To visit or tour a Clementine locations with one of our clinical leaders please reach out to a Clementine Admissions Specialist at 855.900.2221.