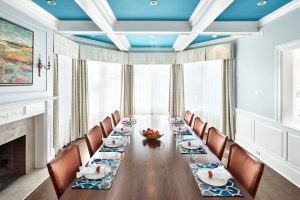 Like many young women from the Jewish community, adolescents struggle to function in an environment in which there is an extensive family and communal focus on food. In recent years, researchers and clinicians have developed an increased  sensitivity for how aspects of religious observance can influence the course of treatment and recovery. The Jewish community is not immune to eating disorders; within the Jewish community, the spectrum of eating disorders is as diverse as sects of Judaism. An adolescent can often feel concerned about a clinical teams understanding of Shabbat, holidays, kashrut and other nuances of Orthodox Jewish life and parents may be unsure of where the best treatment is for their daughter. Therefore, the needs of a Jewish patient often times requires specific knowledge on the part of the treatment team.
All submissions are confidential. An admissions specialist will call you soon.
Our Clementine Program in Briarcliff Manor, NY is Structured To Accommodate Kosher Needs At Orthodox Standards
We are committed to providing the highest quality eating disorder treatment that respects and honors kosher observances. Programming includes exploration of a teen's relationship not only with food, but with the development of their own identities, bodies and relationships with others. We understand the need of our staff to have special knowledge about a Orthodox Jewish adolescents' needs. Staff is trained on the specific needs of teens requesting these services:
Clients and families will be able to have kosher meals and snacks prepared on site

Staff who are well versed in education of kosher laws
Staff who understand Jewish values and can consult with your home rabbinic team
Consultant to help navigate talking with family and home rabbinic team to offer support, if needed
Individualized, integrative treatment model focused on the cultural and spiritual implications that were part of the development of the eating disorder
Nutritionist who understands the complexities of eating disorder treatment through a kosher lens
Family programming designed to allow for observance and celebrations

Therapeutic meal outings at local kosher restaurants
Kosher specific cooking appliances with separate sets of kosher meat and dairy dishes, silverware and cookware with separate dishwashing
Separate storage for kosher items in the pantry and refrigerator
A kosher snack list, including  and certified snacks
Holiday celebrations
WE'RE HERE TO HELP
Find out more about our unique approach to eating disorder treatment and recovery.