Helping teens through their eating disorder recovery in a homelike setting
It can be both painful and frustrating to watch an adolescent struggle with an eating disorder. Parents often express that it feels like there is a stranger in their house and they just want their child back.
It may be hard to imagine, but recovery is possible when you seek help from professionals who are experienced treating eating disorders in teens. They work with the adolescent and their families to navigate the complexities and challenges of the eating disorder.
How eating disorders work
If we look at the science behind how an eating disorder works, we can begin with the fact that our brains are inherently wired for connection. An eating disorder works to drive disconnection by becoming the control center, decision maker, and regulator of a person's brain. This can lead to an obsession with food, manipulating weight, and consistently comparing one's body to others particularly those seen across social media.
While this may not be logical to someone without an eating disorder, it does make sense in the context of someone's personal and scary world of judgment when living with an eating disorder.
Empathy as a healer for eating disorders in adolescents and teens
At Clementine and all Monte Nido & Affiliates programs, we believe in the healing power of empathy as the base of human connection. When a client feels seen and heard, they often visibly relax and become open for connection and self-discovery. That's why we provide a homelike setting that allows adolescents to feel emotionally safe as they manage the fears and other emotions associated with recovery.
As a caregiver, it's important to work on understanding instead of forcing logic. Recognize that someone in the depths of their eating disorder is not able to think their way out. Offer an empathic connection which might open the door for them to reconnect with their own motivation. If you are genuinely curious and seek to understand your loved one who is suffering, they may appreciate your interest in them beyond their eating disorder thus nurturing your relationship.
It's also important that you have your own support system to help you navigate this process. Find others with whom you can share your own experience realizing that it will be different from your loved one who is working toward recovery.
How recovery from eating disorders requires family support
Adolescents' brains are not fully developed and continue to develop into adulthood. That's why it's important to consult with your treatment team to determine reasonable goals for your adolescent because every person and every eating disorder is unique.
At Clementine, we understand that the eating disorder interrupted your parenting journey, and our team is here to help you better understand the eating disorder and, in the process, reconnect you with your loved one while we give them the tools to recover.
Recovery is possible, and together, we can navigate the non-linear journey and introduce self-regulation skills to replace the regulation provided by the eating disorder. We work toward nourishing their body while reestablishing connection with their own sense of agency and values. With empathy, understanding and support, we can help your loved one move toward a healthier and happier life.
Clementine Houston is here to help
If you think your teen may have an eating disorder, we are here to help. Our Clementine Houston eating disorder programis located just north of Houston in Conroe, Texas. This residential treatment program is for adolescents seeking treatment for anorexia nervosa, bulimia nervosa, binge eating disorder, or exercise addiction. It's here that adolescents receive the highest level of medical and psychiatric care outside of a hospital within the comfort of a home.
Our treatment approach is thoughtful integration with personalized clinical and nutritional care and comprehensive academic and family support. Our team is knowledgeable and sensitive to the developmental needs of teens, and our treatment is therapeutically grounded, incorporating state-of-the-art approaches, research, and outcomes data.
Please reach out if you'd like to learn more about if Clementine Houston is right for your family.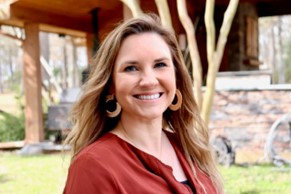 Erika St. Germain, MA, LPC, NCC (she/her) joined Monte Nido in 2019 and recently moved into the role of Clinical Director at Clementine Houston. She is dedicated to holding a healing space for clients to share their unique stories, confront their eating disorders, and reconnect to their authentic selves.  Erika is passionate about building and maintaining a strong treatment team and strives to lead from the heart. She also has experience in outpatient, PHP, and IOP eating disorder settings and is deeply grateful for the opportunity to serve so many courageous clients and their families.